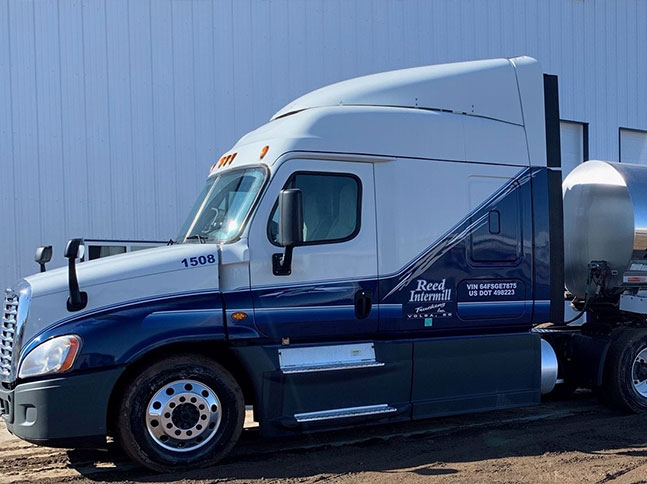 In 1988, a 20-year-old farmer named Reed Intermill started Reed Intermill Trucking to haul grain during the winter months for local elevators. After running his trucking business from his farm shop for years, Reed built his first shop and office in Volga, SD in 2000. Starting from a single truck, Reed Intermill Trucking has grown into a prominent transportation business that operates a diversified fleet of vans, pneumatics, tankers, side dumps, and belly dumps running lanes locally, regionally, and over the road.
Though Reed Intermill Trucking has grown significantly since its humble origins, the company's focus on close relationships with employees and clients still defines the atmosphere of Reed Intermill Trucking today.
Reed Intermill Trucking relies on the continued service of many key contributors. Since the beginning, Reed's wife Alice has been the bookkeeper, and both Reed and Alice remained actively involved in the business until Reed's passing in June of 2020. Their son Nick stepped into Reed's role in the company at that time. Nick and Alice continue to be actively involved with the day-to-day operations. In March of 2005, Aaron Hammrich was hired as the general manager and still holds that position today. Helping Aaron with dispatch and general operations, Steve Jensen and Corey Ridgway have
been a part of the Reed Intermill Trucking family for more than 10 years.
As the business continues to thrive, Reed Intermill Trucking prioritizes updating the business to match industry standards. As such, the business moved into a new shop and office at 221 Industrial Drive in Volga, SD in January of 2020.
Reed Intermill Trucking Inc. is proud of its history of providing exceptional customer service, retaining experienced drivers, and maintaining an excellent safety record.